Marilyn Nippes
Owner, CFO
Marilyn Nippes has been CFO since MPS' Incorporation in 1980 and she manages the day to day operations. MPS is WOMAN-OWNED.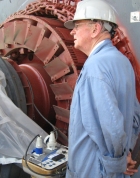 Paul I. Nippes, P.E.
Founder, President
Paul I. Nippes, P.E. is a pioneer in solving shaft current problems and designing corrective products. A Fellow of IEEE, Paul has served as Chairman of both ANSI C50 and IEC SC2G. He earned his B.S.E.E. from Penn State University and his M.S.E.E. from The University of Wisconsin. He was the recipient of the first IEEE Cyril Veinott Electromechanical Energy Conversion Award. Paul has consulted for hundreds of companies world-wide as a Motor/Generator Expert.
Paul has trained the Electrical Engineers who are the Gaussbusters Team. They represent MPS in the field, assisting end users with diagnosing rotating machinery problems, and recommending product solutions.